Сoronavirus may be a product of US 'biological attack' aimed at Iran & China, IRGC chief claims
'Where was your patient zero?' Chinese official speculates US may have infected Wuhan at army games & calls to 'come clean'
13 Mar, 2020 01:00 Get short URL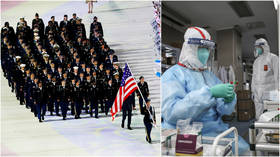 FILE PHOTOS: (L) Members of the US team during the opening ceremony of the 7th Military World Games in Wuhan, China; (R) A medical worker in protective suit prepares for an RNA test at Jinyintan hospital in Wuhan. ©  Reuters / Stringer;  Reuters / China Daily
2/2 CDC was caught on the spot. When did patient zero begin in US? How many people are infected? What are the names of the hospitals? It might be US army who brought the epidemic to Wuhan. Be transparent! Make public your data! US owe us an explanation!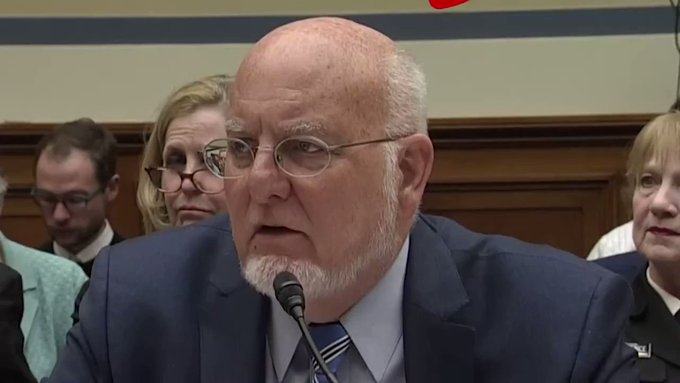 Follow RT on Chinese foreign ministry spokesperson Lijian Zhao has demanded US authorities reveal what they're hiding about the origins of Covid-19, going as far as to suggest the coronavirus may have been brought to China by the US military.
Pointing to a video of Centers for Disease Control and Prevention (CDC) director Robert Redfield apparently admitting the US had several deaths from Covid-19 before they were able to test for it, Zhao called on the American watchdog to come clean in a tweet posted on Thursday.
"It might be US army who brought the epidemic to Wuhan," Zhao suggested, calling for the CDC – and the US in general – to "be transparent" and share what they know about where and when "Patient Zero" was first diagnosed.
In the video, Redfield acknowledged that some cases of coronavirus were misclassified as influenza as the medics did not have an accurate test for the new epidemic at the time. He did not elaborate on when these misdiagnosed cases first appeared – saying only that "some cases have been diagnosed that way." Also on rt.com Bias virus hits New York Times as double standards infect coverage of Covid-19 lockdown measures in China and Italy
In the absence of any patients' details or chronology of deaths, speculation has swirled. Zhao's "theory" in particular focused on the military delegation that traveled to Wuhan in October for the Military World Games, weeks before the city confirmed the outbreak in December. The delegation was part of the 300-member group of American athletes taking part in the multi-sport event held every four years.
Zhao is not the only high-profile political figure to voice suspicions about the timing of the Games and the introduction of the corona virus in Wuhan. Former Malaysian PM Matthias Chang offered similar speculation back in January, zeroing in on the event as the launch point for what he deemed a biological war waged by the US against China.
The World Health Organization (WHO) states that what is now the Covid-19 pandemic was first reported as a coronavirus outbreak in Wuhan, China, on 31 December 2019. The search for the deadly disease's origin has been ongoing, with conflicting versions blaming the Wuhan food market and bats – a local delicacy – sold there in particular, while others opined humans might have gotten the virus from pangolins, an endangered scaly mammal. Also on rt.com Сoronavirus may be a product of US 'biological attack' aimed at Iran & China, IRGC chief claims
Less orthodox theories suggest malicious intent, with the head of Iran's elite Revolutionary Guards sensationally claiming last week that Covid-19 could possibly be "a product of a biological attack by America which initially spread to China and then to Iran and the rest of the world."
So far, the problem with all of those theories, blaming both animals and humans, is that no direct causal proof has been established, while the identity of China's "patient zero" also remains unclear. And it's not China alone: in Washington state – which seemingly identified and successfully isolated its first infected traveler, with dozens of contacts identified and monitored – the virus somehow began spreading anyway. Even Steve Wozniak, Apple's co-founder, at one point claimed he and his wife may have been the US' "patient zero" after developing a bad cough on return from China. It has since emerged his wife's diagnosis was "a sinus infection," however. Also on rt.com EU top dogs slam coronavirus travel bans but can't coordinate bloc's response, as member states shut borders to defend themselves
Aug 2019: US army biohazard labs shut down for failing safety checks. The lab is in Washington State where they have highest incidence of COVID-19. Oct 2019: Military World Games in Wuhan. Dec 2019: First COVID-19 case in Wuhan.
Denise Braun prepared to demonstrate lab work during a media tour at the Army Medical Research Institute of Infectious Diseases in Fort Detrick, Md., in 2011.Credit…Patrick Semansky/Associated Press
By Denise Grady
Safety concerns at a prominent military germ lab have led the government to shut down research involving dangerous microbes like the Ebola virus.
"Research is currently on hold," the United States Army Medical Research Institute of Infectious Diseases, in Fort Detrick, Md., said in a statement on Friday. The shutdown is likely to last months, Caree Vander Linden, a spokeswoman, said in an interview.
The statement said the Centers for Disease Control and Prevention decided to issue a "cease and desist order" last month to halt the research at Fort Detrick because the center did not have "sufficient systems in place to decontaminate wastewater" from its highest-security labs.
But there has been no threat to public health, no injuries to employees and no leaks of dangerous material outside the laboratory, Ms. Vander Linden said.
In the statement, the C.D.C. cited "national security reasons" as the rationale for not releasing information about its decision.
The institute is a bio defense center that studies germs and toxins that could be used to threaten the military or public health, and also investigates disease outbreaks. It carries out research projects for government agencies, universities and drug companies, which pay for the work. It has about 900 employees.
Unlock more free articles.
The shutdown affects a significant portion of the research normally conducted there, Ms. Vander Linden said.
The suspended research involves certain toxins, along with germs called select agents, which the government has determined have "the potential to pose a severe threat to public, animal or plant health or to animal or plant products." There are 67 select agents and toxins; examples include the organisms that cause Ebola, smallpox, anthrax and plague, and the poison ricin.
In theory, terrorists could use select agents as weapons, so the government requires any organization that wants to handle them to pass a background check, register, follow safety and security procedures, and undergo inspections through a program run by the C.D.C. and the United States Department of Agriculture. As of 2017, 263 laboratories — government, academic, commercial or private — had registered with the program.
The institute at Fort Detrick was part of the select agent program until its registration was suspended last month, after the C.D.C. ordered it to stop conducting the research.
The shutdown was first reported on Friday by the Frederick News-Post.
The problems date back to May 2018, when storms flooded and ruined a decades-old steam sterilization plant that the institute had been using to treat wastewater from its labs, Ms. Vander Linden said. The damage halted research for months, until the institute developed a new decontamination system using chemicals.
The new system required changes in certain procedures in the laboratories. During an inspection in June, the C.D.C. found that the new procedures were not being followed consistently. Inspectors also found mechanical problems with the chemical-based decontamination system, as well as leaks, Ms. Vander Linden said, though she added that the leaks were within the lab and not to the outside world.
"A combination of things" led to the cease and desist order, and the loss of registration, she said.
Dr. Richard H. Ebright, a molecular biologist and bioweapons expert at Rutgers University, said in an email that problems with the institute's new chemical-based decontamination process might mean it would have to go back to a heat-based system "which, if it requires constructing a new steam sterilization plant, could entail very long delays and very high costs."
Although many projects are on hold, Ms. Vander Linden said scientists and other employees are continuing to work, just not on select agents. She said many were worried about not being able meet deadlines for their projects.
Missteps have occurred at other government laboratories, including those at the Centers for Disease Control and the National Institutes of Health. And in 2009, research at the institute in Fort Detrick was suspended because it was storing pathogens not listed in its database. The army institute also employed Bruce E. Ivins, a microbiologist who was a leading suspect — but who was never charged — in the anthrax mailings in 2001 that killed five people. Dr. Ivins died in 2008, apparently by suicide.
Editors' Picks
As Studio 54 Boogies to Brooklyn, Its Denizens Look Back in WonderA Young Couple Look for a Manhattan One-Bedroom to Renovate. Which of These Would You Choose?The Tickets Home Were $5,000. They Paid It.Earlier coverage of germ researchArmy Suspends Germ Research at Maryland LabScientist's Suicide Linked to Anthrax InquiryPathogen Mishaps Rise as Regulators Stay Clear