Trump accepts Nikki Haley's surprise resignation as UN ambassador.
Nothing here to see, just business as usual. Politicians  lying and cheating and hiding behind the usual need for rest and rehab. They are being force-fully retired and given a story line to save face. Nickki the "Nuclear Chick" is the latest War-Monger now put out to pasture.

Published time: 9 Oct, 2018 14:09 Edited time: 9 Oct, 2018 15:02 Get short URL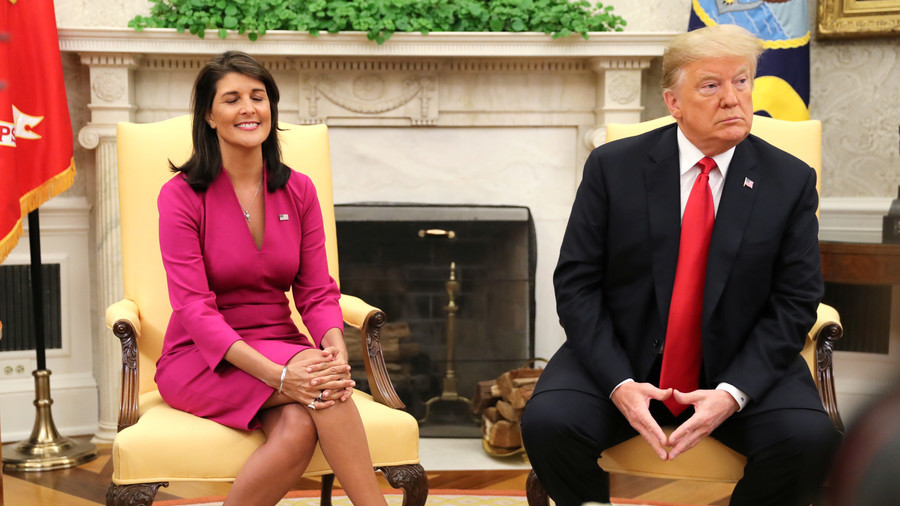 Nikki Haley meets with President Trump in the Oval Office to announce her resignation © Jonathan Ernst / Reuters

President Trump has accepted Nikki Haley's resignation as UN ambassador. Haley had wanted some time off and discussed her resignation with Trump last week at the White House.
In announcing her resignation, Trump said on Tuesday that Haley first broached the subject six months ago, when she told the president that she wanted to take some time off at the end of the year. Trump said that he hopes Haley will one day return to his administration, and told her "you can have your pick" of positions within it.
Haley will depart at the end of the year, and Trump said that he "will be in constant touch" with her afterwards.
Before John Bolton's hiring, Nikki Haley was probably the most pro-war, pro-imperialist high-ranking Trump official, and therefore the most beloved Trump official by the war-loving US media. She held every conventional foreign policy view that has generated so much destruction.— Glenn Greenwald (@ggreenwald) October 9, 2018
Haley had held her post since Trump's inauguration in January 2017. Since then, she echoed Trump's tough line towards the United Nations, and oversaw the US' withdrawal from the UN Human Rights Council, which she called the UN's "greatest failure."
After the publication of an anonymous op-ed in the New York Times in September, which described a concerted effort by officials to thwart the president's plans, Haley denied involvement, and said that she openly disagrees with Trump when necessary.
"I don't agree with the president on everything. When there is disagreement, there is a right way and a wrong way to address it. I pick up the phone and call him or meet with him in person," she said. She later called rumors that officials were planning on trying to remove Trump from office for unfitness via the 25th Amendment "absurd."
Prior to joining the Trump administration, Haley was South Carolina's first female governor, elected in 2010, and again in 2014.
It's been two seconds since she resigned and she's already wiped her Twitter bio clean pic.twitter.com/58SoBmeeCV— Dalia Hatuqa (@DaliaHatuqa) October 9, 2018